Desert Safari Dubai provides the ideal outdoor adventure, offering fun and excitement without breaking the bank! Experience and witness first-hand how Land Cruisers battle rolling red dunes while the safari guide remains on edge, all while you enjoy this harrowing yet safe adventure with friends, colleagues or family – perfect thrills of sun, sand and dune-bashing for all ages!
The Safari Packages are
Tailored to Suit your Needs and Budget
Take advantage of everything available to you. View the Safari Trip Gallery, featuring high-energy Desert Safari, Dune Bashing and Campsite Activities.
What is desert Safari Dubai?
Did you know the Lehbab Desert is one of the premier locations for desert safar in Dubai? Experience the excitement and adventure of riding up and down dunes on our four wheel drives; our Land Cruisers come equipped with safety features, while our professional drivers ensure your enjoyment is as safe as possible during this 6-hour adventure! Don't forget Horse Riding or Camel Riding too; don't miss out on a truly memorable experience!
Dinner is also included and you have the choice between non-vegetarian or vegetarian BBQ dinner. As the best Desert Safari Dubai tour operator, we can take you to some of the greatest spots around with our affordable packages.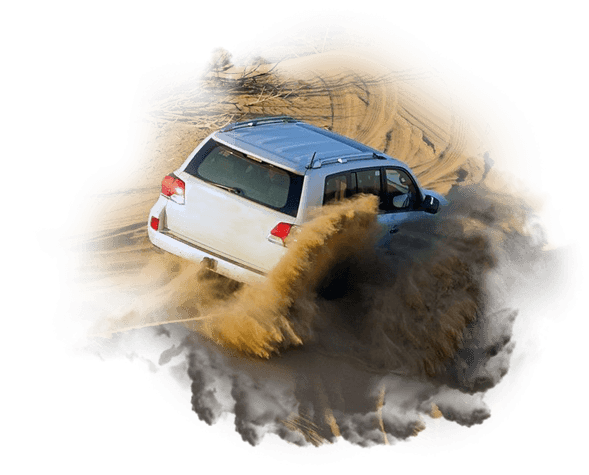 Dune Bashing
Dubai desert 4×4 dune bashing is a thrilling ride in the Dubai desert that is about 45 minutes maximum. After 30 minutes of a rough ride in the open desert, the safari captain stops at any big dune so you can take pictures and let the 4×4 get cool. The vehicles travel in convoy and stick close together as they perform their stunts. You were going to enjoy this thrilling slipping and the sliding, the skidding and the spinning ride. And sand, lots and lots of sand.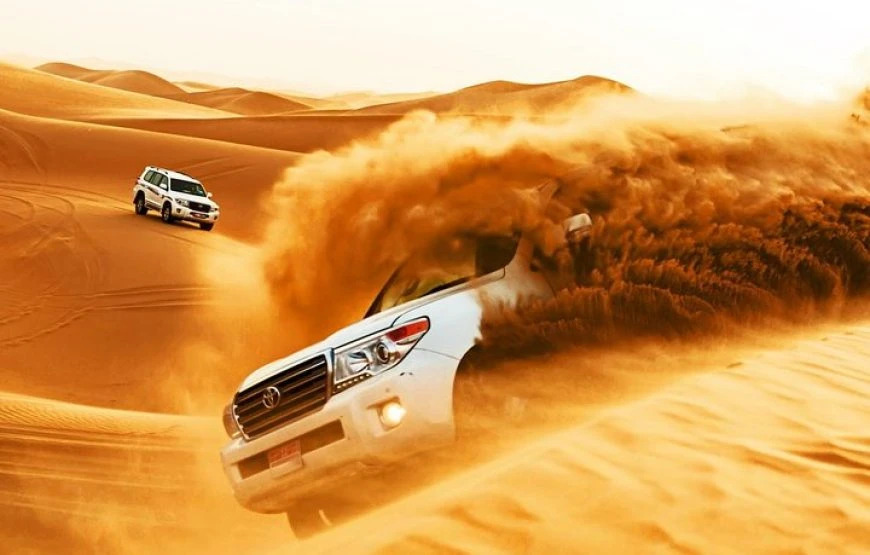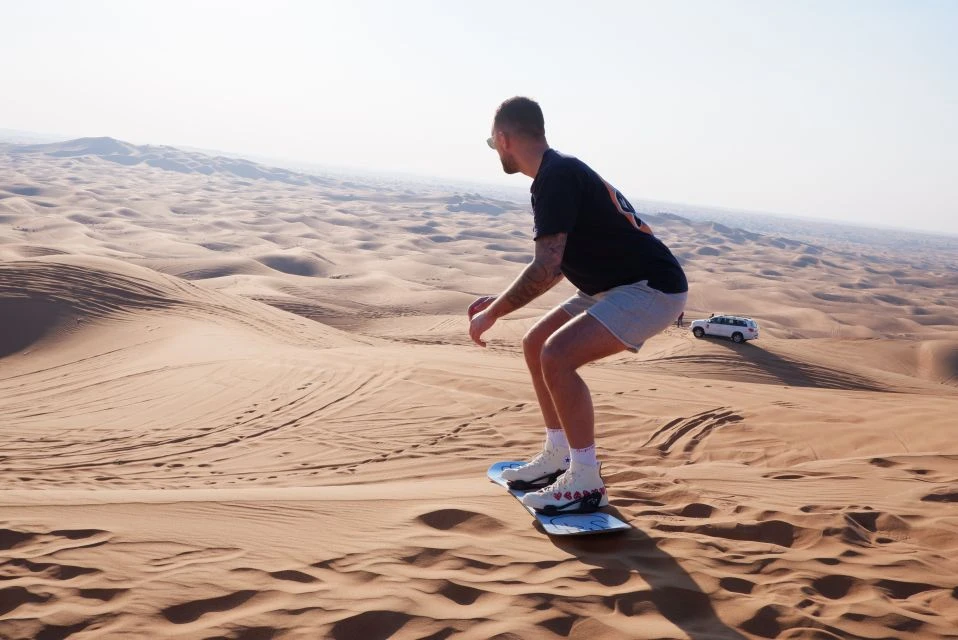 Sand Boarding
Dubai is blessed with natural features in the deserts that allow one to glide through the sand dunes from great heights – just like you would do on snowy hills. Among many major attractions and activities in Dubai is the Sand boarding experience. This sport requires no prior experience or expertise of any kind. All it needs is a heart that's keen for adventure. The specially designed boards enable you to strap them to your boots easily and allow you to just glide from the top of any dune. Especially if one is a solo explorer of adventures, this one's surely for you.
Camel Rides
Take a break from the constant adrenaline rush with this serene activity. Experience the desert like the locals with a relaxing ride on the back of the ship of the desert. A guide will help you interact with them and also click stunning pictures of you riding the camel across the tranquil desert.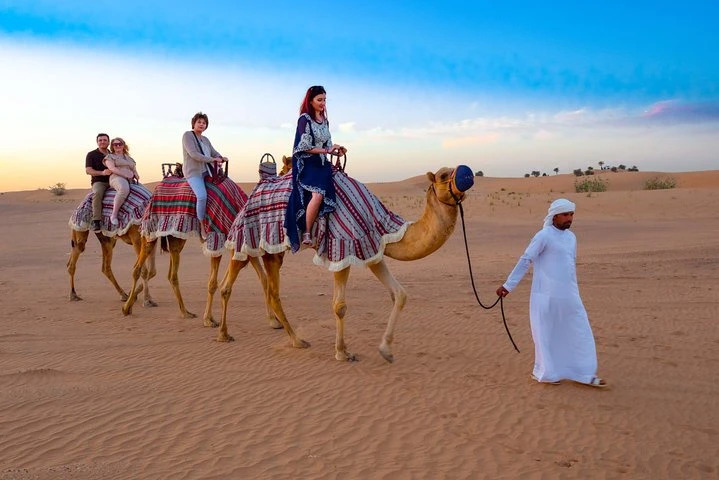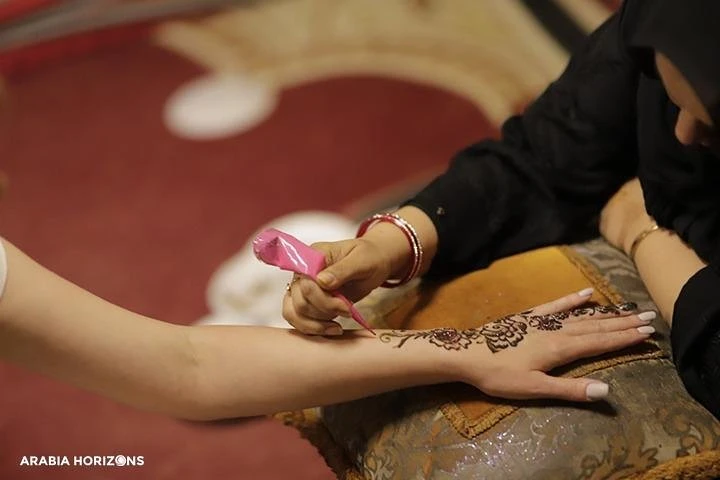 Henna Painting
Henna leaves are processed into powder form and then mixed with other safe chemicals to make a paste. The art is more like tattoo art, except the application is painless and certainly does not harm the skin. Also, it dries off quickly, leaving beautiful painted Henna design colors on your hands and gets disappear after a few days. It is being used for centuries by women to apply beautiful art Mehndi Design Or Mehandi Designs on their hands and feet, especially at the wedding and other special cultural and religious occasions.
Live Entertainment
Evening safaris are incomplete with live performances. Tanoura shows, belly dance performances, and fire shows complete the evening after your adventure in the desert. You can even take part in the activities and also get henna paintings done on your palms.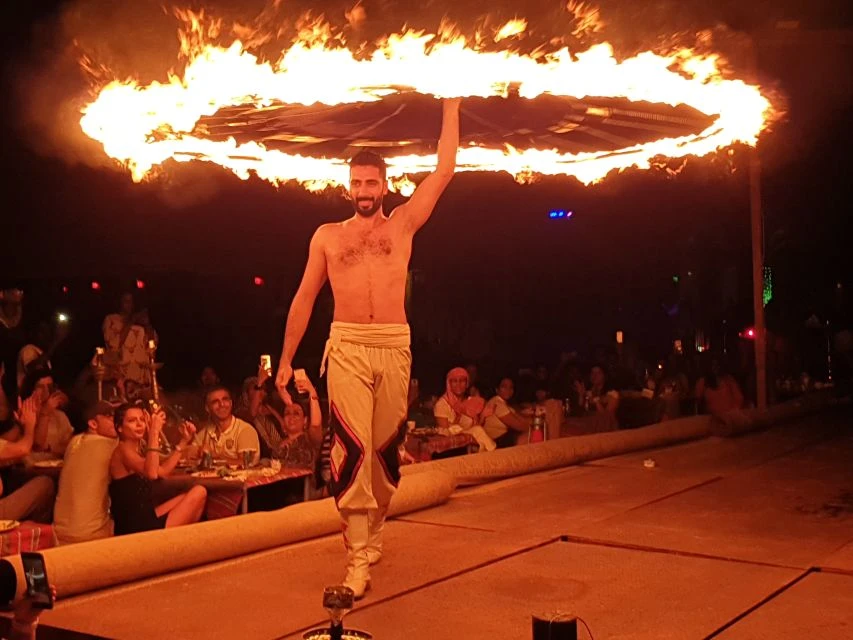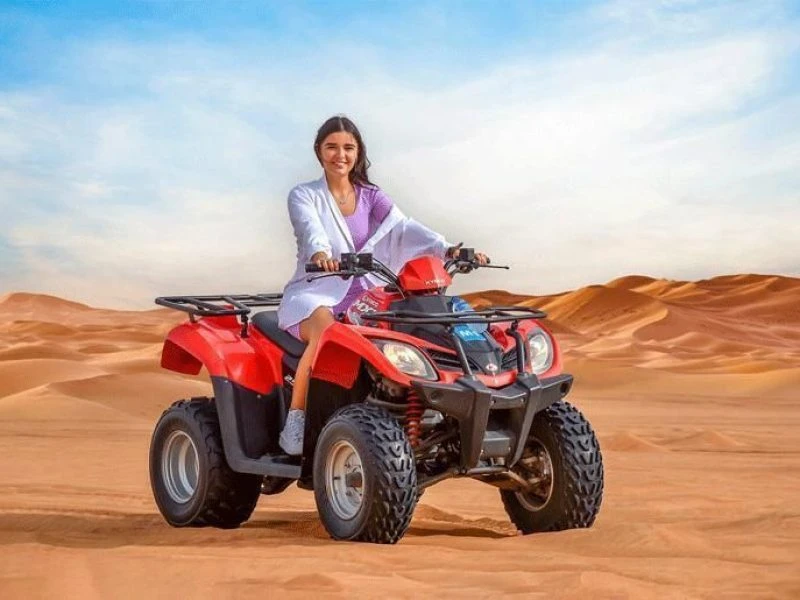 Quad Biking
Make time for an exciting tour with Quad Bike Safari Dubai. Explore Dubai's desert dunes while zipping through canyons and steep hills on a quad bike accompanied by professional guides who provide necessary safety instructions and information. Choose either quad biking or buggy vehicles; our tour guides can advise which would best meet your needs.
Quad bike safari Dubai tours feature camel riding, sandboarding, belly dancing and refreshments – with tourists being picked up and dropped off at their door by 4×4 cruisers.
Bedouin Dinner Experience
Delicious food with both veg and non-veg options is most usually a part of Evening Desert Safari itineraries. The BBQ dinner and buffet give a perfect ending to the safari. Explore authentic Arabian flavors with a delectable spread accompanied by live entertainment.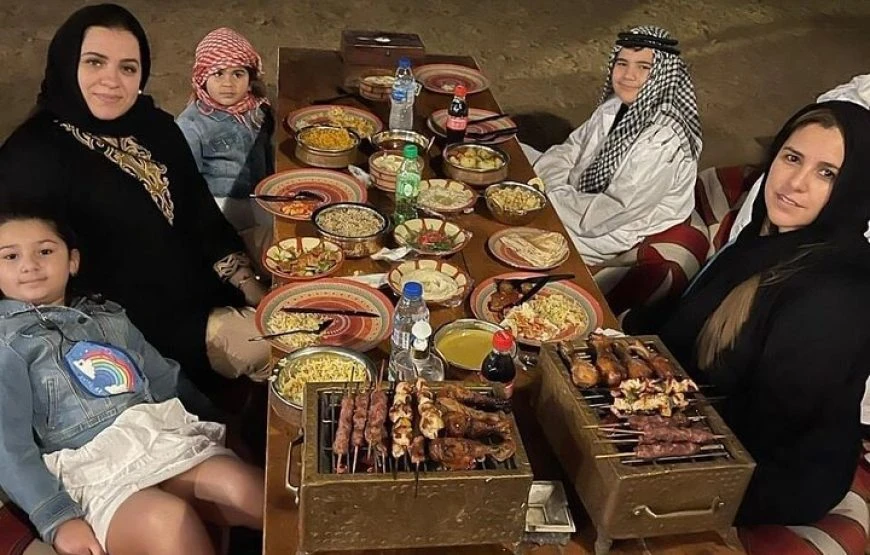 Types of Desert Safari Dubai
We have different safaris to suit the budget requirements and the time available. You can choose a quick safari-only package, or if you have enough time, then opt for the Overnight Desert safari too.
Treat yourself to an afternoon desert safari! Perfect for those with limited time and are busy in the evenings, our car will pick you up at 9AM in the morning and drive straight out into the desert, where our drivers will provide 20 minutes of dune-bashing, quad biking, camel riding and sand ski activities before returning back to camp with free drinks (water/soft beverages provided free by camp). After returning back home by car approximately two hours has been passed since you first began this experience!
This tour starts in the late afternoon and features several photo stops. After an exciting dune-drive, you will arrive at your first destination to witness a magnificent sunset. We then embark on Dune Bashing until reaching our campsite where we offer many activities like Henna Tattoos on hands or feet, sand-boarding adventures and camel riding experiences, shisha and barbecue dinner after working up an appetite, 
Private Desert Safaris in Dubai provide the ideal way to experience the Lehbab Desert, providing an immersive way of uncovering its beauty and culture. There's so much more you can expect on a private desert safari in Dubai; activities include sweeping landscapes, diverse wildlife and rolling sand dunes that you can discover during this desert oasis tour – from dune bashing and camel riding, quad biking and sand-boarding! Find out more here about what awaits on a private Dubai desert safari adventure!
Discover the rich history and vibrant landscape of the United Arab Emirates as you venture deep into Arabian Desert on this Jeep Adventure Safari tour. It's the perfect way to experience its authentic culture – leaving modern Dubai behind in favor of an unforgettable ride you won't soon forget.
Our well-maintained Hummer will take you across some of Dubai's craggiest dunes, giving you ample opportunity to see all its astonishing animals and breathtaking landscape. It provides an exciting way to explore Dubai's desert while providing an outdoor adventure! The Hummer Desert Safari provides a special way to discover Dubai and guarantees a thrilling outdoor experience!
Spend an unforgettable night at Dubai's Lahbab Desert near Omani border, spending your night sleeping under the stars in an open desert camp – it is an excellent way to escape city life! Your Overnight Desert Safari begins with a dune-bashing adventure, followed by numerous fun activities like Bedouin-inspired camps or fireside relaxation as the sun goes down; relax in Bedouin style camps as night falls before enjoying our delicious BBQ dinner complete with salads, desserts and appetizers before breakfast is served before leaving this Arabian Desert oasis.
Read what Our Customers Say!
Verified
Desert Saffari with Dune Buggy..... Chill traveling.....It was an Amazing ride. Sand bording too good. We are enjoying too much. All my family & me got a good experience Thanks Mr. Davood..........🤝 Inshah Allah, we meet next year again....
Verified
We enjoyed lot all program was super bugy ride fantastic and camal desert ride amazing we come back again and we recoma It was fantastic dune bugy with Ahmed dhavoodh,we are really enjoyed super bugy ride wonderful day amazing experience thanks ahmed
Verified
Best Dubai Desert Excursions We rented a Desert Buggy 2 seater and it was a fantastic experience. The staff is very attentive, the service is top notch, and the overall experience was smooth and very enjoyable. Overall 5/5 and would 100 percent recommend this place!
Verified
Amazing company!! Left a review before on the trip itself but this is a special mention to Muhammad faizan our driver who realised I'd left my passport at the excursion, he took his own time to message me and drop this back to my hotel which was a 2hr round trip!!! Thank you!! 6* awarded to this business.
Verified
Amazing time had by all Great experience that all the family can enjoy. We did quad bikes, Camel Ride, Sand boarding staff very helpful.
Verified
Great experience with buggy and quad bike in desert Great experience - I used their buggy and their quad Bike. Guides were super helpful and friendly. Would definitely recommend!
Verified
Good Experience Great Experience would 100% recommend! Had great fun, was great for taking photos. Staff were super helpful and friendly.
Verified
Quad in Desert Dubai Very good experience ! Very kind personal ! If you are in Dubai and you want see the desert , I advice you to go here !
Verified
. Great service, nice location not far from the city. Good cars and instructors. Made good photos.
Verified
Best team ever ! Very professional, very good and powerful buggy ! We also saw camels and took beautiful pictures !!!